2015 was one for the history books! Over one hundred performances and 10's of thousands of road miles with 15 different acts. Tons of fun music with great musicians for friends, family and fun folks all over the country.
I am so lucky to be able to do what I love to do and to work with friends all along the way. Sincere thanks to my family, each of the musicians, bookers, agents, clubs, festivals, encouragers, supporters, students and fans that make this musical life a reality.
We're set for an exciting new year too but here's the highlights of 2015! Thank you for making it a great one.
jason and co.
Coda – 2015
In the Studio – Always grateful for the opportunity to work on records and 2015 included some in-studio work for new albums from Maria The Mexican (I even wrote some string parts), Pig Farmer and a special track for our friends, Under the Big Oak Tree.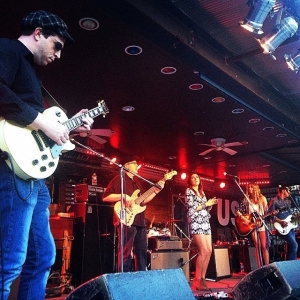 The Jams – I like to play. I mean… I REALLY like to play. I played gigs by myself, with Soca Jukebox, Maria The Mexican, Soca Duo, Pig Farmer, The KC All-Stars, Under The Influence, My Homies – Ed Daniels and Chris Jones, Bryan Alford, Dan Bliss and Craig Kew. 2015 offered us a third shot at opening for Los Lobos at Knucklehead and an invitation to be the special guest for "A Night of Jazz" with the Central High School Jazz Band.
A real highlight of the year was getting to set in with our friends, Bonerama from New Orleans. I've got a family "in" with this great band. Besides their own brass funk originals they play tons of amazing guitar rock from Hendrix, The Allman Bros. and Led Zeppelin. Those are my people!
The most fun, however, was sitting in with the New Orleans Jazz Vipers at the Spotted Cat in New Orleans, LA. It was my first time in the city which was just super inspiring and quite frankly, mesmerizing. Perhaps I was Hoodoo'd but I caught a lucky break from our family friend (Trombonist Craig Klein plays in Bonerama and the Jazz Vipers) and got to play 3 sets of incredible, traditional and swing jazz (much in a KC style) with an ever-revolving cast of great players. Some of these tunes I only knew from records and had never heard a real band actually play. It was AWESOME and I loved every minute. I even got to check out the green room with a balcony overlooking Frenchmen street. It was a real New Orleans experience for me. Thanks Craig!!
Brinnon and Marks Comedy Consult – I didn't laugh this hard all year. Really special to have Steve and Joe at the house to brain storm on some upcoming musical comedy skits for their show. I don't know that they can use any of it but I was in tears and in stitches.
6 Hour Widow-Maker – Did I mention that like to play? Some days I'll put in 10 or 11 hours if I've got practicing, teaching and a gig to do. Used to be a little easier a few years ago. This was a first for a solo gig though… six hours on Valentines day. My wife is a saint.
Folk Alliance International Conference – This is a major event right in our backyard. So excited to be a part of it and to have an official showcase (and a few unofficial ones) with Maria the Mexican. Classes, concerts and late night jams. Met a lot of great people from all over the world that week in KC and actually got to hang with a lot of our local musicians we otherwise miss coming and going.
I Love Teaching! – Besides just playing guitar I'm blessed to be able to share what I know with others. This year included my first ever SKYPE lessons, a growing library of my own teaching materials and writings AND we started my Mom on guitar! This is the same lady that I had to beg for years to buy me one. I knew she'd come around.
We also graduated 2 outstanding guitar seniors from MWSU. Really special to see these awards go to our student guitarists.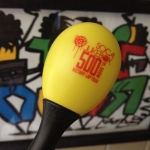 Soca 500
– Soca Jukebox celebrated 500 Shows together this year. Many, many bands will give up after just a few. It's a lot to make it to 100 and most will never even keep track. Luckily, our amazing bassist is also an amazing accountant so the IRS always gets their share. BOO! I am so proud and fortunate to be able to work with the great group of guys. I'm not going to lie… we celebrated a little. Just a little. We also commissioned a commemorative shaker/bottle opener for the occasion. We always seem to need either a bottle opener or a shaker for something so we thought… hey… solution.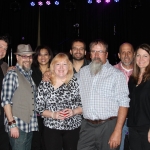 Benson Party
–
Under the Influence
played a very special celebration for our longtime friends and fans, John and Lori Benson. Our band is like family and it was truly special to be included in this amazing evening. A combination of great production, family, friends, hugs and faces rocked off.
(Jolie had to rush out that night to meet our kids at the emergency room. Seems the daughter had "popped" the son in the mouth pushing his teeth through his tongue! Innocent horseplay, they said. I'm sure he deserved it for something. He was sweet, she was compassionate and they remain siblings to this day!)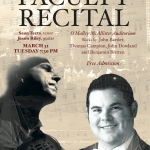 Renaissance Man
– I don't get to play strictly
classical guitar
all that often these days. So when I got the opportunity to accompany fellow Benedictine College music professor, Sean Teets, on a concert of all
Renaissance music
I bowed politely and said "Huzzah!"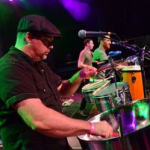 Soca Summer Tour
– We called the "Victory Lap" in celebration of all the shows we've played together. It truly was a great and memorable summer. Some day, I'll be able to tell my grandkids that we played for Hardee's AND Kool-Aid Days! It was a summer filled with festivals, private parties and charitable events. That's how we roll.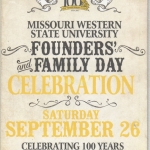 MWSU Founder's Day
– I began walking onto the campus of Missouri Western State COLLEGE in the fall of 1991. Ouch… that hurts to admit. I didn't realize it at the time, but as a member of the Golden Griffon Marching Band I would form lifelong friendships and music business partners. That's where I was introduced to all the members of Under The Influence, the guys that would later become Soca Jukebox and even the founders of Maria the Mexican. The ol' Alma Mater has gone through many changes over the years (and more to come I'm sure). Under the Influence was part of the celebration that renamed the place a "UNIVERSITY". It was a real honor for me to a part of the 100 years/Founder's Day/Alumni Celebration with
Soca Jukebox and Maria The Mexican
this fall. I got the worst sunburn that I've ever had that day. It was worth it.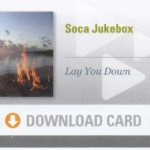 "Lay You Down"
– Soca Jukebox released their very first original single this year. It's something we've talked about for a long time and it finally came to pass. It's a great song too, we've had so much amazing response from all over about it and we are really proud of it.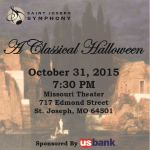 "Who You Gonna Call?"
– While I've played a lot of different stuff with full symphony orchestra it was a great treat to get to play "wah-wah" guitar for the
St. Joseph Symphony's Halloween Concert
ON Halloween. Only one selection… "The Theme from Ghostbusters"! After some embarrassing discussion with the conductor about why he was waving that stick so much, what do all these black dots mean and how a proper electric guitarist would know how to provide a combination glissando WITH appropriate timbral inflection… I realized on the night of the show that I only had 2 of the 4 pages of the written music. "Who you gonna call?" Somebody with the other pages? Nope. JPR got you covered. Great performance for the Symphony and just a fun, fun night for all Hallow's eve.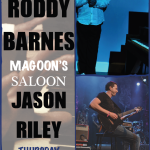 Roddy Barnes
– When you grow up as little guy, from a little town, sometimes there's just not a lot that's available to you. Sure, you might get these big ideas in your head about breaking out, being your own man, making it in your own way, hell or high water. Where I was growing up, the high water could only be a flooding Tarkio river and the only guy to break out musically was Roddy Barnes. His doing so was an inspiration for what might be possible to the rest of us.
It was a real honor to share a show with him this fall. It was a great night. It was a memorable night. Some friends and family from the hometown and lots from the new town. I was kind of proud. To see everyone sitting and really LISTENING. Roddy is an amazing songwriter, honky-tonker and story-teller of the "good news". It was great to hear him and share a few songs together. I was LISTENING and I got the message again.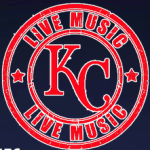 Oh yeah… and something about the KC Royals… what was it? what was it?
I know there were lots of other memorable moments, things small and large that I'll just keep to myself. It went way too fast. I'll hope to slow 2016 down at least a little bit.
Here's to making today the best yet. And tomorrow. Happy New Year!!!!