2017.
You have been defeated.
While you showed up day after day to lift us up and knock us down, we tried to make the most of it.
Not a bad year for music.
We monitor these stats pretty closely just to make sure we are heading in the right direction. A little creative journaling mixed with basic facts.
Pretty much my idea.
Hindsight is our friend.
We played 140 dates with over 20 different ensembles traveling many miles over 9 states in 2017.
Top Performing Acts
1) Jason Riley Solo (40%)
2) Soca Jukebox (25%)
3) Maria the Mexican (7%)
4) Under the Influence (6%)
Honorable Mention: Under the Big Oak Tree
Lessons – At home and at the universities, I gave more than 1400 music lessons and classes.
Lots of notable stuff happened in 2017 both personally and professionally.
New Computer – I got one and I'm typing on it now! We also updated our home recording interfaces and software so we can make more hits!


St. Joseph Arts Academy – We transitioned from the Jason Riley Guitar Studio to the St. Joseph Arts Academy in January. Set up websites, social media, enrolled students, worked with the center for entrepreneurship at MWSU and basically showed some hustle. In our biggest leap of faith, we are very excited to be starting in our first commercial location in 2018! Enrolling students now! 2027 N. 36th Street St. Joseph Mo is the new home of the St. Joseph Arts A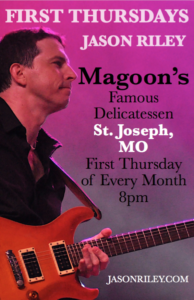 cademy!
First Thursdays at Magoon's – I love my Thursday nights at Magoon's. Once a month I get to play whatever I want for real music lovers. Continuing in 2018! Thanks to Barry and the great staff and patrons for keeping me in the queue.
Red Socks Europe – A big disappointment this year was not being able to accept the invitation to this great festival in France. What kind of an idiot turns down stuff like that? Maybe this year?
Quickbooks – I tried it. I didn't like it.
Taxes – Lots of figuring and ciphering with all we track here. But Uncle Sam gets his and I always feel relieved when they are completed.   Now… Politicians… Please use it conscientiously. Spend it like it was your own money.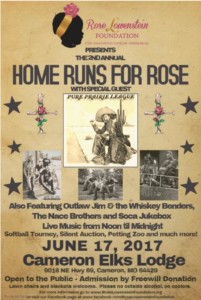 Parenting Children with Special Needs – Soca Jukebox does a number of charitable events every year. We try to concentrate them on children and families. Parenting Children with Special Needs is a wonderful group that we've worked with for many years. Always a great night with them. "Home Runs for Rose" was another favorite for a great cause. We shared the stage with our friends the Nace Brothers, it rained like heck but the show still went on with the Pure Prairie League.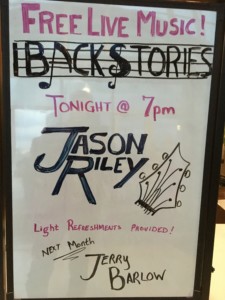 Storytellers – I love the library. This was a really special concert for me. I got to talk all about me. My favorite topic. And play some of my favorite music too.
FAI – This was my 3rd Folk Alliance International Conference in KC this year. Always very inspiring to see so many great acts from all over the world bringing their A game to our backyard. Exhausting to take it all in 9am-4am everyday, music, music, music. Get a job, folkies.
Newsletters – Tried my hand at creating monthly newsletters for our music student families and a few for Soca J. Just call me "Scoop". That's the newspaper biz.
Memorials – We lost 3 men of great importance in my life this year. It's truly amazing. The flood of memories and emotions that go along with losing loved ones who knew you when. I owed them each respect and gratitude for sharing love and being examples for me. It was deeply important to me and an honor to be a part of the music for their memorials.
That's all I have to say about that.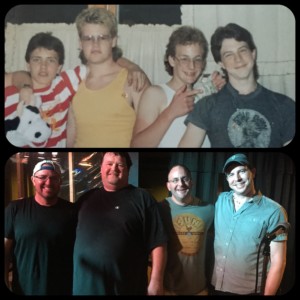 Unique Performances – Once in a while I get the call to a special event, to sub for a friend or fill in for a one-off performance. Some of this year's favorites were with our friends the Jimmie Bratcher Trio, Matt Snook with the Selle Brothers, the KC All-Stars and the St. Joseph Symphony with Eric Stark as the featured performer. Even got together with my home boys for reels, Tarkio MO in the house. My face still hurts from smiling. Thanks for including me everybody!
Cup of Joe/Entrepreneurship Week – In 2017,
I started attending the local entrepreneurship meet-up, "Cup of Joe".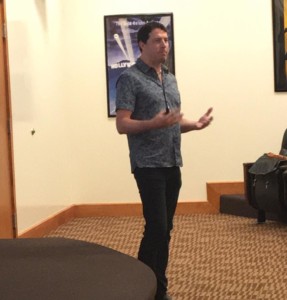 It's been really fun to meet like-minded folks and hear about the new businesses they are growing in our community. We we're also invited and able to present our businesses for the group including a Q&A. Really awesome to be able to get some great ideas and their feedback was extremely valuable. I presented for the SJAA and my man, Clay J presented Soca J on the music performance side. It was live on Facebook too! Entrepreneurship week at MWSU was another great event we took in. Looking forward to it again this year. They are hustling on everyone's behalf at the center for entrepreneurship at Missouri Western.
Life Again – The debut solo album from our friend, Shawn Minter was released! This labor of love was over a year in the making and is one of the finest productions I have ever been a part of. Tons of fun working with Shawn and Jodee on this amazing album. I got to put quite a bit into it choosing some of my favorite players, making the arrangements and playing the guitar. If you don't have a copy, you are missing something special.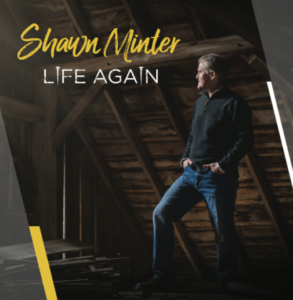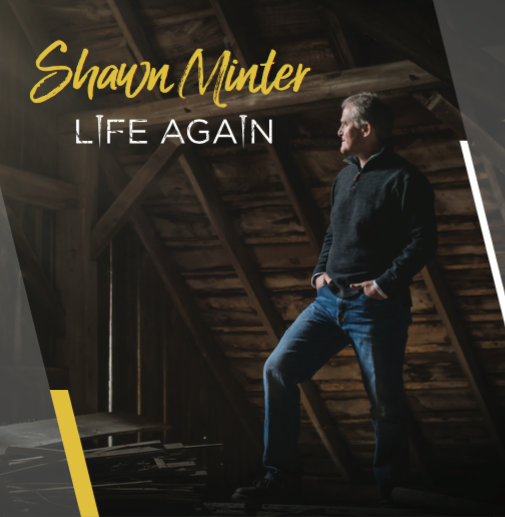 ShawnMinterMusic.Com
Life Again on iTunes
SocaJukebox.com//Videos – Our top performing ensemble in 2017. Soca Jukebox defeated all odds, reinventing themselves with the world's most expensive website and massively delayed (but incredible) video demos. 9 months is the gestation time for human websites. Now, if we can just save enough to put it through college. WWW.SocaJukebox.Com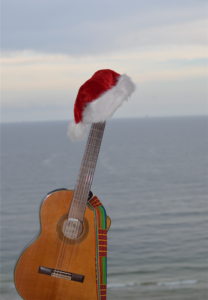 Hootenanny 17 – It's nice to have a friend. Family friends. Family and friends who play music together.  Annually.
In a condo overlooking the Gulf of Mexico.
We've made some great memories over the years and we'll continue. Eating, sleeping on the beach, playing in the surf, eating, some very moderate drinking (odd days only) and having a wonderful time all together. To top it off, Jolie and I celebrated our 16th anniversary on June the 16th with a 16 hour return van trip home. Time to get back to the Alabama Sunset.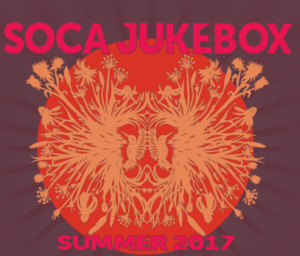 Soca Poster! – We are calling it the "Missouri Lion". This original artwork for the band was done by our favorite artist and friend, Angie Pickman at RuralPearl (www.ruralpearl.com). She's extremely busy so it was super cool to get her to do something special for us. We love it so much we even got shirts and coffee mugs with the design.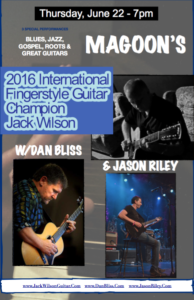 Great Guitars (Dan Bliss, Jack wilson) – When Dan calls and says the latest Finger-picking champ is coming to town and they need someone to carry their guitar cases… you show up and start toting! What really happened was we were going to do a 3 guitarist solo set and then a big finale jam with Dan, Jack and myself. In the end, we had to miss Dan due to a family emergency (everyone is good) but Jack played a great set for the nice people at Magoon's. Then we played together! I think I did actually carry some guitar cases.
Under the Influence Celebrates 25 Years – Yep. I did the math. Rock band forms in 1992, stays together until 2017 equals 25 years. I'd like to know where the last 20 went. We could write a book (or several) about rocking, personal and family relationships, stage craft, bus repair, bus disrepair and one dedicated to mischief and hilarity. We played a handful of really special shows this year, we got together to hang, we even practiced (yuck). These are the boys and girls what raised me from a rosy cheeked youngster into the grizzled old piece of shoe leather I am today. I even married one of the back up singers. Truly, brothers and sisters (and wife) in Rock n Roll. I owe them a great debt for the years of stage time, creative freedom and unforgettable memories. They'll tell you I owe them too.
Soca Jukebox Quinceañera – Soca J are just like pups. Finally able to get their permit on the road to musical success. There are few groups who last for more than a few months, let alone a few years. The Beatles hated each other after 10. A better group of guys you will not find. So proud of them all personally, love their families and we all cheer each other on in personal and professional endeavors. We even got everybody together to celebrate a great year with a year end, holiday style, year-in-review, group hug with libations.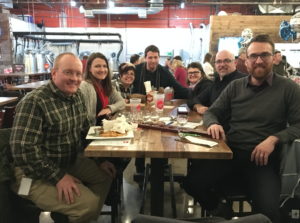 Are You In Love – Our friend, Simon from Under the Big Oak Tree is the best. When our community leaders set out to rebrand the city of St. Joseph as a place of #UncommonCharacter, they commissioned Simon to write the song. "Are You In Love" really is a love song to our hometown and he knocked it out of the park.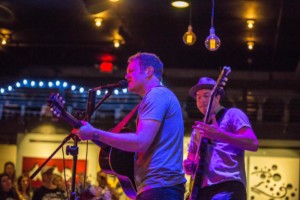 Really a great song.
We performed it together for the rebranding kick-off party and then we produced the tune in earnest. We'll be doing the duo version again for the Chamber of Commerce Annual Banquet in 2018. For a listen or to purchase a high-quality, studio version…
www.uncommoncharacter.com or on iTunes
Or just hire us and we'll come to your house and do it in person!
"This is Soca Jukebox" – We worked hard to prep this new album, our second double-live record taken from our shows at the Voodoo Lounge, KC. It's soon to be out and we'll be touring on it throughout 2018. Can't wait for you to hear it. But, I'm really excited for you to BUY it.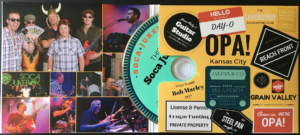 In the meantime… "Lay You Down" at iTunes

Eclipse – Did you see it? We didn't. Not much of it anyway on a cloudy day in St. Joseph. It did get good and dark, good and fast which was cool. We had a houseful of fun family and had a great time. I won't soon forget (or be forgiven) for pulling the all-nighter with my long lost friend and former slum lord/roomate/bandmate, Tommy T. It had been a long, long time and we had a lot to catch up on. Thanks for putting me though college, Tommy!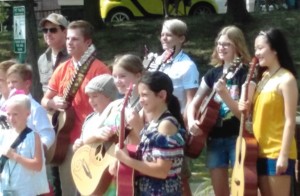 St. Joseph Arts Academy perform for Summer Festivals – This was really cool. Actually, our students had over 12 performance opportunities in 2017. Most advancing musicians rarely get the opportunity to perform but we are committed to these experiences for them. This summer was particularly special with sets at the Trails West Festival and the Coleman Hawkins Blues Festival. Huge THANK YOU to the student, their friends and families for participating and for encouraging these young musicians.
9 to 5 The Musical – "pour myself a cup of ambition"… Great to play the guitar for the pit band of the Roubidoux Resident Theater.  That's Brian.  He's texting me.  "Turn down.  Learn to read music"  That's Brian.  This was a really fun show and so many friends were involved. I really love working on these shows (and they are a ton of work for all involved). In another life, it would be fun to do this full time on Broadway or tour with a road show.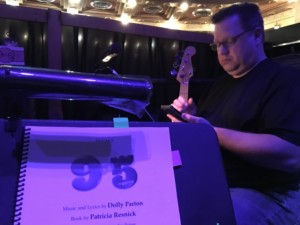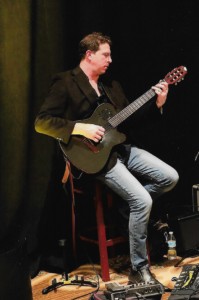 Angus Foundation in Fort Worth – We traveled to Texas as part of the Angus Foundation's annual award ceremony. This was my fourth year entertaining for them, they are such great people and just wonderful to work with. RFD TV's Red Steagall was the cowboy MC and the meal was just salad? No. Certified angus beef. There was some salad too. Rabbit food. I stopped to play in Oklahoma on the way down, made some friends and had a great time.
Our Biggest Investment – I would say… is our kids. Some people say that their home is their biggest asset. Some say liability. Well… we paid ours off anyway.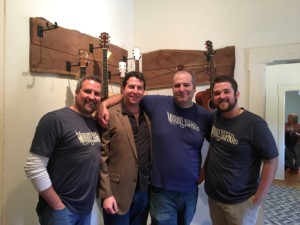 Muddy River Guitars – Atchison Kansas has a really neat, new guitar shop. My friend (and Muddy River's owner), Scott invited me over to play the grand opening. I want this to be my new club house. I'm telling everyone about it. If you are just out for a road trip to historic Atchison, you should stop in. Lots of friends in house that day.  I did eventually get a matching shirt, 12 ukuleles, guitar cleaning kit, some hugs, home brews, good conversations about music and/or family and a great day out with the Mrs. www.muddyriverguitars.com
MWSU Marketing Class – It was a great experience working with the Marketing class at MWSU this semester. An amazing team of 4 smart, young ladies chose us for their semester project. I attended one class, they met with me and came to the studio and then I attended their presentation final to the class. It was just great to talk about the business of music education from their perspective. They wrote a marketing plan for the Academy and just gave us tons of good news and encouragement. Working with them was a true highlight. Thank you, Ladies!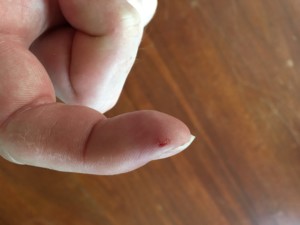 Lots of other stuff, I'm sure I'm forgetting. Oh, yeah… I was nearly killed in this chain saw accident. Yada, Yada, Yada.
Fun stuff already on the books for 2018… Folk Alliance with Under the Big Oak Tree, Nashville with my best, Ed D., Hootenanny '18, St. Joseph Arts Academy Grand Opening, Soca Summer Season, new solo singles, "This is Soca Jukebox" release, tour dates and lots more in the works…
Thanks for a great year. 2017. We are stronger for knowing you.
2018. Tuck in your shirt.
Happy New Year, everyone!
jason and co.
You don't have to like us but…
https://www.facebook.com/stjosephartsacademy/
https://www.facebook.com/jasonrileydotcom/
https://www.facebook.com/socajukebox/
Consider Joining our Newsletters or checking in regularly at the websites! We are here for you.  If I had a pickup, you could borrow it.
http://www.jasonriley.com
http://www.stjosephartsacademy.com
http://www.socajukebox.com
Not a lost art. Give yourself and your kids a music lesson! I mean it. All the cool kids play music. With their fingers and minds. (sometimes even on washboards or spoons.)