Notes to Self~
2018 has truly been one for the record books.
Quite a few "firsts" still emerge after many years doing the music thing. Twenty-eighteen has been creative, productive, memorable and quite frankly, exhausting. I'll be dictating this to a servant from my private (and quiet) sanctuary on Ashland Avenue. In a robe and slippers. ohm…
Just in case you missed anything, I can't wait to share the highlights with you.
STATS –
We played over 155 Dates…
With 20 different Acts (Rev. Jimmie Bratcher, Wes Parker, Rod Fleeman/Dan Bliss, Robidoux Resident Theatre, Ed Daniels, Bryan Alford, Havilah Bruders, Church events, JR Trio, Under the Big Oak Tree, McGig Quartet, Under the Influence, Simon Fink, Soca Duo, Soca Jukebox, Student Recitals, Just Jason (solo) and more)…
Across 8 States (MO, KS, IA, NE, SD, OH, TN, AL)…
Traveling 10's of thousands of road miles!
I personally taught over 1600 music lessons, classes and clinics. Thanks to my awesome students, families and colleagues at SJAA, MWSU and Benedictine College!
2018 MVP's on the performance side…
1) JR Solo – 37% – jasonriley.com
2) Soca Jukebox – 19 % – socajukebox.com
3) Under the Big Oak Tree – 18% – underthebigoaktree.net
2018 Top Venues/Events
1) Cunningham's Journal (Kearney, NE)
2) Angus Foundation National Convention (Columbus, OH)
3) Blish Mize Spring/Fall Markets (Overland Park, KS)
4) Mosaic Life Care Special Events (St. Joseph, MO)
5) Magoon's/Riverwood Winery/Jowler Creek Winery (St. Joseph/Weston/Platte City, MO)
HIGHLIGHTS –
Uncommon Character/"Are You in Love" – It was a real honor to work with UBOT's, Simon Fink for the original song in the re-brand for St. Joseph. Simon wrote a great song and let me help in putting the sessions together. We also performed the song for the SJCC Annual Banquet and the Patron's Party of the final Trails West festival.
iTunes – https://itunes.apple.com/us/album/are-you-in-love-single/1298910965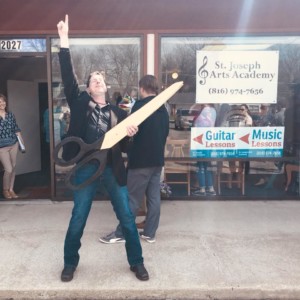 St. Joseph Arts Academy – We started a music school! The SJAA opened in our first Commercial Location on Jan 8. with 30 guitar students and 2 teachers. We joined the Chamber of Commerce and had our ribbon cutting in April. We are now up to 6 instructors teaching guitar, piano, violin, voice and a little Uke! Our students had 10 performance opportunities including the Coleman Hawkins Blues Festival and Trails West. Proud to say that one of our High School Guitarists, Elliot Kimmel was chosen as All-district jazz guitarist!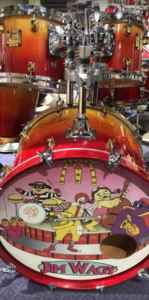 McGig – McDonald's Quartet – I've never played a McDonalds before. Or any other fast food restaurant either. When some friends said they wanted to celebrate the restaurant's remodel and expansion of the play place with a smooth jazz combo, I had to say yes! The owner was our drummer! A couple of fun shows there right in the play place. Seems appropriate. And bottomless fries!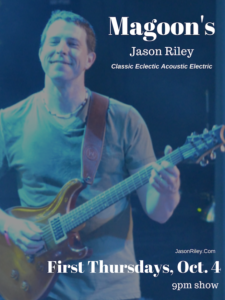 First Thursdays at Magoons – Another year of monthly solo spots at one of the great hometown venues. This was a great night to try out new things, experiment or blow the rust off with real music lovers. Thanks to Barry and the good people there for having me on the bill.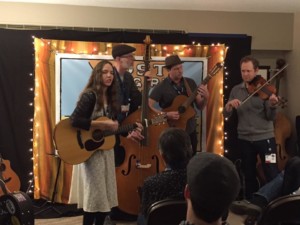 FAI 2018 – The last of the KC Folk Alliance International Conferences. They head to Montreal in '19. It's an intense 3-4 days (and nights) with musicians just running amok. Great to be there more officially with Under the Big Oak Tree this year.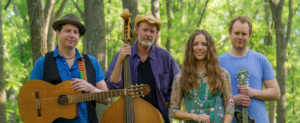 Under the Big Oak Tree – My first official year as real band member. And a great year it was. Really love these guys as people but great songwriters all and a truly one-of-a-kind ensemble. We started with their series "songs of St. Joe" featuring well… songs written by our homey's present and past. Lots of great shows including the album release parties for "The Ark". It's an amazing record that I'm really proud of. It's made several of the top album's list for 2018. Got some super cool album photos, an old-timey, tin-type photo shoot and a few runs with the local radio people. Thanks for including me, UBOT!
Taxes in –
Being a self-employed musician has some redeeming qualities. The IRS just loves to get in on the show. I'm not exaggerating to say that I probably get 10,000 1099's (slight exaggeration), a couple of W-2's, a worn out calculator and hours of frustration to get "the man" his numbers and his money. It's a major event! Once it's done however… it's a major lift off the shoulders here.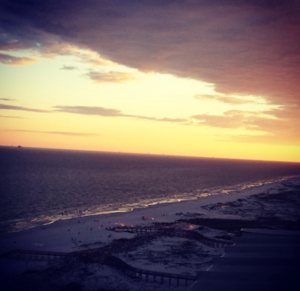 Hootenanny – The "Hootenanny Hotel" in Gulf Shores, Al has been our summertime, sing-a-long home for the last several year. Most of my favorite peeps having a blast on the beach.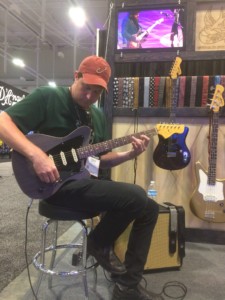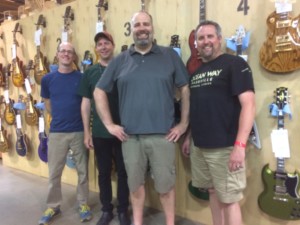 Nashville NAMM! – My first ever National Association of Music Merchants Conference in Nashville. Lovingly referred to as Summer NAMM, it's a convention center filled with gear, gear, gear and music nerds. Grateful for the invitation to travel with our friends from Muddy River Guitars, Swope Guitars and JayCo straps to present at their booth. My duties were light but the fun was heavy. Great to see some people I knew there and meet some new friends too.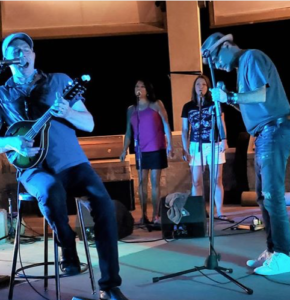 Amelia Earhart Festival – One of the great summertime festivals in our area. I've played it many times and this was the second year for Under the Influence. Perfect night, awesome airshow and incredible fireworks presentation all came off without a hitch. The band has the best seat in the house too.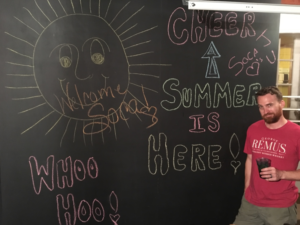 Emmettsburg IA – Probably my favorite of all the burgs. We've made so many great friends from there and have been there to celebrate some big life events with them. This year was April's 40th Bday Bash! It was really great to be back on the lake with everybody. Thanks for including Soca J!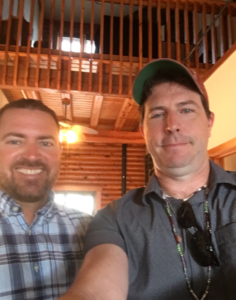 CDBaby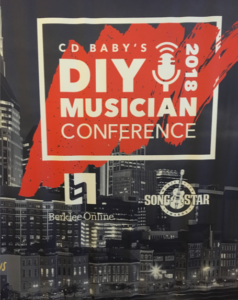 DIY Conference – My second run to Nashville in '18. Mostly an excuse for a road trip with my bestie, Ed Daniels of Las Vegas. A few nights at the Hit Song Casa will always put you back on track. My first ever CDbaby conference was a little more for newbies than grizzled oldies. Saw some neat stuff though. Music City is now ripe with roof top bars and lower broadway is like Vegas on steroids. People all over going every which way. And the amount of ladies (all dressed alike) in wagons and pedal/drinking carts makes this the Bachelorette party capitol of the world.
Learning –
I've always been kind of a slow-learner, a late-bloomer, some might even say "special". I've accepted this. As such, I'm very interested in catching up, continuing my education and learning things that I can share with my own students.
Here's a short list of some of the things that have been really beneficial in following my own curiosities, inspiring to me or just helpful in my own studies this year.
Artist works – Andreas Oberg, entrepreneurship week at MWSU, cup of joe (local entrepreneurship meet-up),
books read… (my children have eased up this year on my love of the self help section. I call it Psychology.)
(Black Elk Speaks, Bruce Dickinson Autobiography, 12 Rules for Life, Mastery, Select works of James Allen, The New Testament, Tools of Titans, Man's Search for Meaning, Jazz Composition and Arranging, The Awakening of Intelligence, The Art of Learning, yada yada.
I've also dug deep on a few podcasts and what would I do without the youtube?
Havilah –
Like Madonna or Cher, she really needs only one name. I've been getting to know Havilah (and Chris) Bruders over the last couple of years mainly through the Folk Alliance and mutual friends in KC. She's definitely a world class vocalist of the highest caliber with range and versatility to spare. It's a rare opportunity for me (these days) to get to work one on one with a great female vocalist with an impressive repertoire of standards in Jazz, Blues, Gospel and more. She's also very patient and kind which helps a lot in getting through a few sets with me. We also both have daughters named Georgia (which really is the prettiest name for a lady).
https://www.facebook.com/jasonrileydotcom/videos/433176983880124/ for "What a Wonderful World" – Havilah Bruders/Jason Riley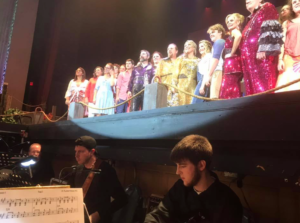 "Mamma Mia" – It's amazing to watch a show come together. We are so lucky here to have a network of extremely talented and dedicated actors/singers/dancers/directors/stage people types that can really put on a show. Also, maybe you didn't know it but… huge ABBA fan. I'm not ashamed to admit it. I didn't actually "see" the show. I was busy in the pit working the score with a great group of musicians and friends. The Robidoux Resident Theatre has expanded this year with lots of great things ahead from them. http://rrtstjoe.org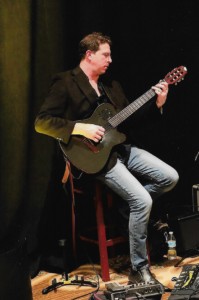 Angus Foundation National Conference –
Did you know that St. Joseph MO is the home of the American Angus Association? That's cattle, not the ACDC dude. They have been great friends of ours and extremely loyal to me as a guest guitarist. They've invited me to perform for them around the country for the last several years. This year the national conference was in Columbus, OH. I had never been to Ohio. An important first in any musicians life. Great to be with friends when you are away from home. And if you are looking for the best steaks, well look no further. This year was extra special with an invitation to accompany the National Anthem for Saturday's opening events. It's an amazing foundation with an emphasis on education, scholarship and continued excellence in their breed. Cool stuff.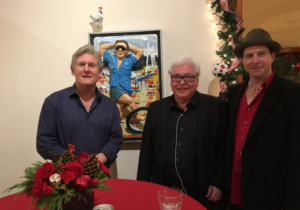 Rod and Dan – Do you have some heroes? Rod Fleeman and Dan Bliss are a couple of my personal guitar heroes that I actually know. Super fun to have a couple of dates with them here in the big city.
Travel – I like too. I don't even mind driving. I like to go different, new places, see different parts of the country. We put lots and lots of miles on the mini-vans of rock.
Wineries – The Midwest is famous for it's wine?  Maybe not like France or California or something. But we have a lot of great little, boutique type wineries in Missouri. The ones in our region have been very reliable about presenting live music. People really seem to enjoy the day trips, the togetherness, the wine, of course and the music JR is always smooth and pairs well with chicken or fish. Riverwood Winery in Weston and Jowler Creek in Platte City are my personal recommendations.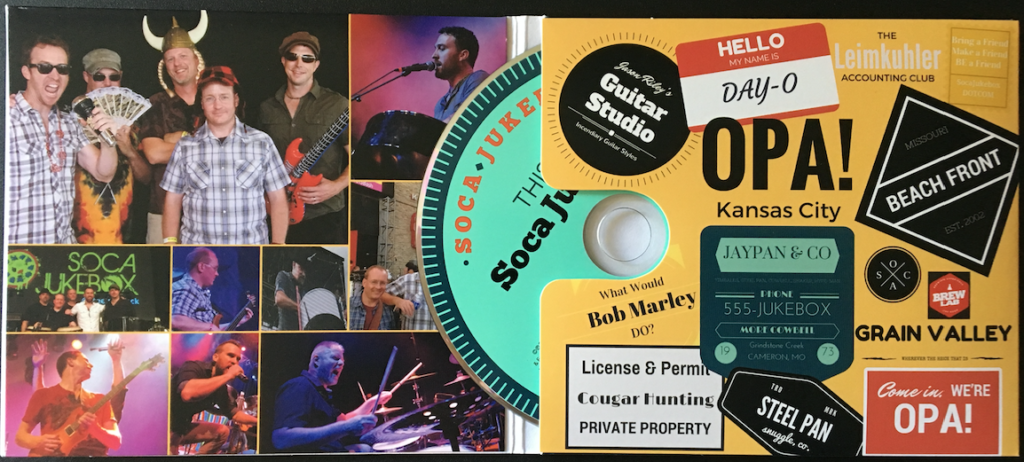 "This is Soca Jukebox" – Officially releasing our second live album compilation in 2018. "This is Soca Jukebox" is a great representation of the bands live show with fun, familiar songs, humor and false bravado.
iTunes – https://itunes.apple.com/us/album/this-is-soca-jukebox-live/1354095306
"Man, It's Christmas!" Tour – Big Thanks to the Rev. Jimmie Bratcher and his amazing band for including on a few shows for the annual Christmas tour. They took me to my first ever prison show where we played for the inmates at the El Dorado Correctional Facility. A run to Chrome in Omaha and back to Knuckleheads in KC had us road tripping in the band van and laughing 'til it hurt.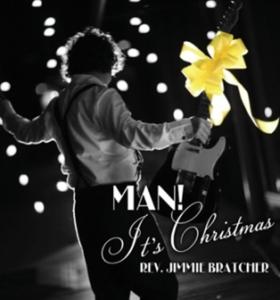 Shout out to my teammates…
Jolie, Georgia, Benjamin, Mom, Andrew, Dave, Jay, Clay, Ben, Doug, Simon, Kristen, Annette, Keven, Glenn, Tyler, Charles, Jason D, Scott, Craig, Mark, Kent, Jimmie, Terry, Monica, Brent, Andrew, Emily…
TeacherZone, TrueFire
Mark Marek, Omni Entertainment, Generation Relevant, Chris Tedesco, Matt Snook
SJAA students and families
Faculty at MWSU and BC
Thanks to all who made it to the end with me.
Consider checking ye 'ol website once in a while for updates (http://www.jasonriley.com) or please join us at Facebook (https://www.facebook.com/jasonrileydotcom/) if you are into that sort of thing.
Wishing you the very best in 2019
jason and co.
Stay Tuned…
Coming in 2019…
St. Joseph Arts Academy – Growing a Music School
The Nova Project – Tour France in March
New Solo Ep release & tour dates
Web and Calendar Updates
http://www.jasonriley.com
http://www.stjosephartsacademy.com
http://www.socajukebox.com