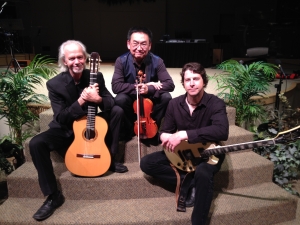 I am very excited to announce that I'll be a guest clinician at "Red Socks and the Guitar", a guitar festival in Chartres, France this summer.
Looking forward to seeing the crew there again. It's been a few years since I've been over.
Besides teaching some masterclasses and private lessons, I've got a couple of very special clinics in the works towards Jazz guitar and other styles.
The festival is sponsored by the International Center and the School of Music at the University of Missouri-Columbia and directed by my partner in the Nova Project, Anthony Glise. Our friends and partners, Ken Sugita will also be on hand to inspire us and 'House-Mother', Sylvia Turrell will keep us all in line!