Shawn Minter Announces the New Album Life Again 
Rock Port, MO – Shawn Minter is proud to announce his first Christian music release, LIFE AGAIN, the debut solo album from the Christian rock vocalist, Shawn minter with co-producer/guitarist, Jason Riley. This anxiously awaited album will be available on compact disc or through digital download internationally beginning May 21, 2017.
LIFE AGAIN is a menagerie of spiritual music with arrangements of familiar, uplifting hits in gospel, contemporary christian and christian rock. The music is both heart-felt and high-production from a groove-oriented cast of top-session players. Each tune on the album was selected by Shawn with charts and arrangements from guitarist/producer, Jason Riley. The results make for a wide variety of pieces perfect for the vocalist's unique quality and range while retaining the organic feeling and intensity found in the cohesion of a working band. Shawn's vocals alongside acoustic and electric guitars, drums, bass, organ, violin, cello and backing female vocals create a unique texture where gospel meets rock for an up-to-date contemporary Christian production.
LIFE AGAIN was created in evolving phases from the initial phone call from Minter to Riley inviting him to be a part of the process in Spring of 2016. Riley says, "We put an amazing band together for the sessions that included players from Kelly Clarkson, Florida Georgia Line, Kerry Livgren's ProtoKaw, Hall and Oates, KC's Organ Jazz Trio, Hot Club of Kansas City, KC All-Stars, Soca Jukebox and more." The album was recorded, mixed and mastered at Awestruck Studios in KC.
LIFE AGAIN includes one original song based on the hymn "Love Lifted Me" co-written by Minter and Riley and many other contemporary Christian and Christian rock hits from Kathy Troccoli, D.C. Talk, Lee Greenwood, Decipher Down, Daughtry and Michael Sweet of Stryper.
The original album artwork features photos of Shawn and his family, the singer's personal testimony and a Bible verse. Photography is by Rachel Ottman Photography and graphic design is by Sarah DeGarmo at risebydesign.com.
LIFE AGAIN comes from the artist's own experience as a born-again christian and aspiration to share his gift of music to encourage others. "This is a 20 year dream come true", Minter says. "People have been asking me to make this record for years and it's a blessing for me to finally be able to share this project with them."
LIFE AGAIN is available on CD and by digital download around the globe via the world wide web at places like iTunes, Amazon, Cdbaby and ShawnMinter.Com. You can download the entire album or select individual tracks. The album is poised for wide-release starting May 21, 2017 and can be found at participating churches, book, music, family and gift stores. Watch for Shawn Minter to visit your area in 2017.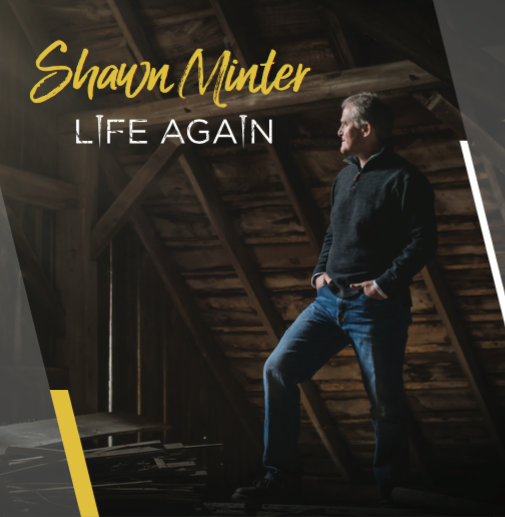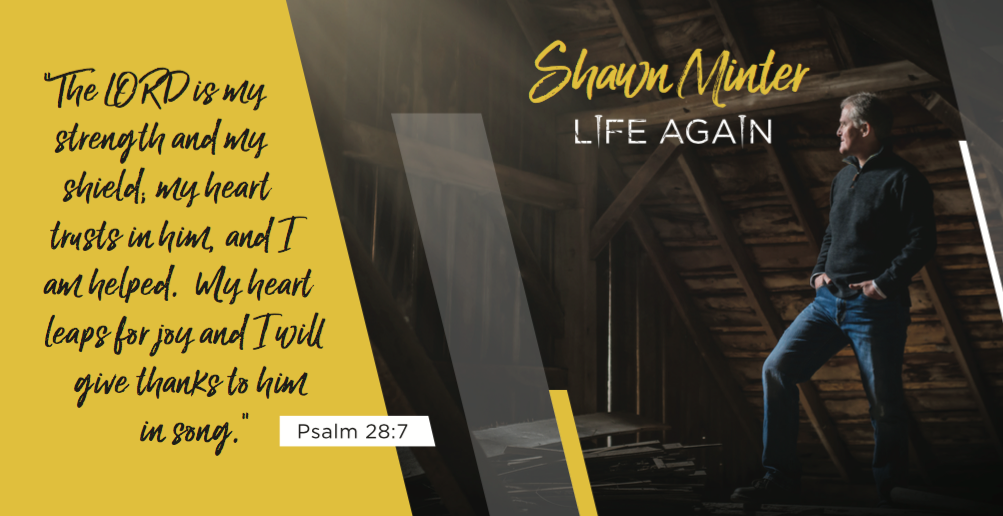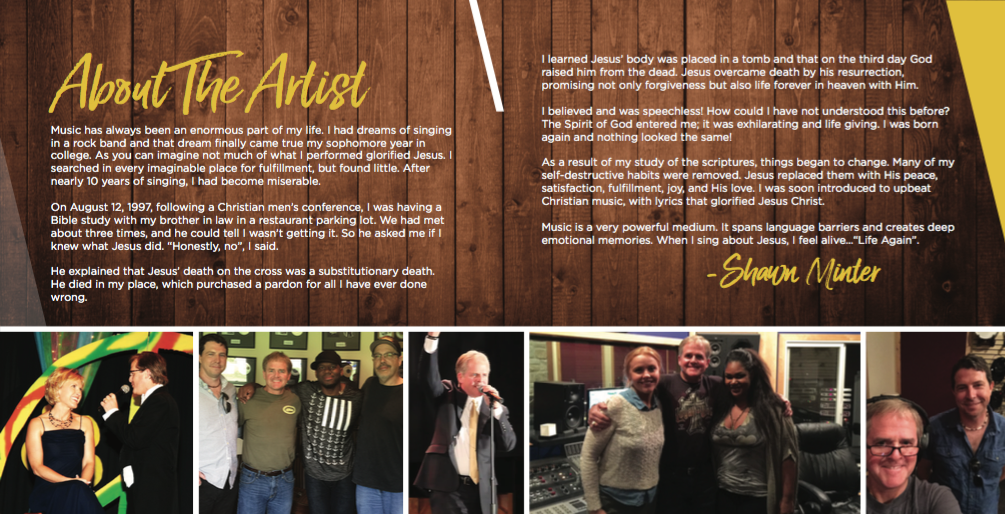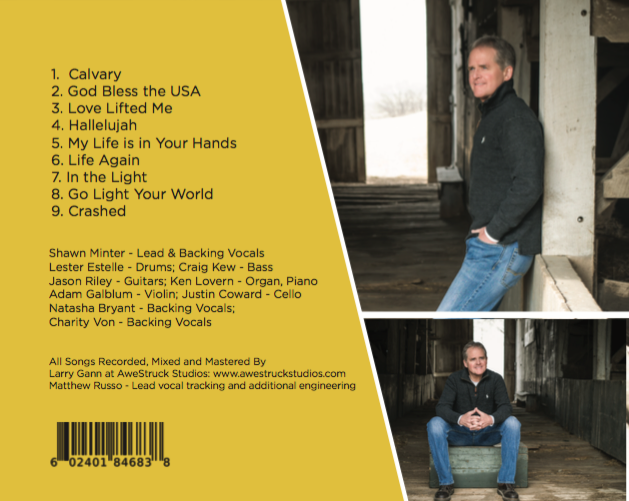 1. Calvary
2. God Bless the USA
3. Love Lifted Me
4. Hallelujah
5. My Life is in Your Hands 6. Life Again
7. In the Light
8. Go Light Your World
9. Crashed
Shawn Minter – Lead & Backing Vocals
Lester Estelle – Drums
Craig Kew – Bass
Jason Riley – Guitars
Ken Lovern – Organ, Piano
Adam Galblum – Violin
Justin Coward – Cello
Natasha Bryant – Backing Vocals
Charity Von – Backing Vocals
All Songs Recorded, Mixed and Mastered By
Larry Gann at AweStruck Studios: www.awestruckstudios.com
Matthew Russo – Lead vocal tracking and additional engineering
© 2017 Unauthorized duplication is a violation of applicable laws. Made in the U.S.A
Music has always been an enormous part of my life. I had dreams of singing in a rock band and that dream finally came true my sophomore year in college. As you can imagine not much of what I performed glorified Jesus. I searched in every imaginable place for fulfillment, but found little. After nearly 10 years of singing, I had become miserable.
On August 12, 1997, following a Christian men's conference, I was having a Bible study with my brother in law in a restaurant parking lot. We had met about three times, and he could tell I wasn't getting it. So he asked me if I knew what Jesus did. "Honestly, no", I said.
He explained that Jesus' death on the cross was a substitutionary death. He died in my place, which purchased a pardon for all I have ever done wrong.
I learned Jesus' body was placed in a tomb and that on the third day God raised him from the dead. Jesus overcame death by his resurrection, promising not only forgiveness but also life forever in heaven with Him.
I believed and was speechless! How could I have not understood this before? The Spirit of God entered me; it was exhilarating and life giving. I was born again and nothing looked the same!
As a result of my study of the scriptures, things began to change. Many of my self-destructive habits were removed. Jesus replaced them with His peace, satisfaction, fulfillment, joy, and His love. I was soon introduced to upbeat Christian music, with lyrics that glorified Jesus Christ.
Music is a very powerful medium. It spans language barriers and creates deep emotional memories. When I sing about Jesus, I feel alive…"Life Again".
"The LORD is my strength and my
shield; my heart trusts in him, and I
am helped. My heart leaps for joy and I wi
give thanks to him in song." Psalm 28:7
Purchase on iTunes