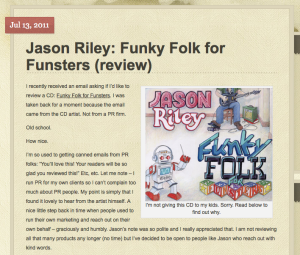 When I receive a new CD in the mail, for review, I always hand over the cover to my kids so they can examine it. "We have a new CD – let's pop it in and listen!" When Funky Folk arrived I was in the car, alone. I popped the CD in and decided then and there that I own this one. Not my children.
According to Jason's website, this CD was created for kids. That said, I don't think my children have the life experience yet to fully appreciate how awesome this music is. So they don't get it. Sorry.
My father plays the guitar, the piano and he also sings. I grew up listening to music at home, church, in the car and more. I don't consider myself a music expert but I can certainly spot raw talent when I hear it.
Read the full review at MommyPerks.com