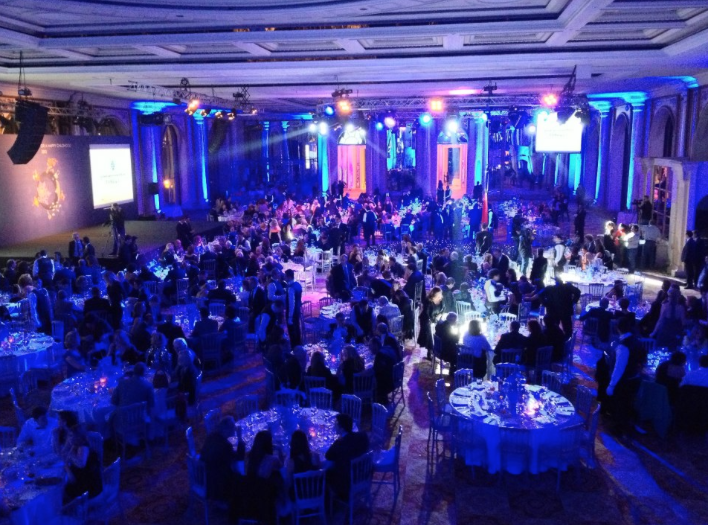 Are you looking for the perfect corporate entertainment for your company or organization?
Choices.
Corporate entertainment brings a lot of different choices. Do you need a motivational/inspirational or educational speaker? There are magicians, comedians and musical acts. And don't forget about themes that bring in all together. Your circus-themed annual picnic could have stilt walkers, elephant rides and acrobats. Casino night might be table games, floor shows or even a Sinatra impersonator. Truly anything is possible and there are professionals out there to help you plan, hire vendors and make all the right connections at the right price and quality.
Engagement levels.
Something to consider is the level of engagement you want for your guests. Some acts bring high levels of audience interaction to your event. They work the crowd, they bring people on stage for skits, incorporate team building exercises or customize their shows around your group or specific people in it. (Maybe the CEO has a good sense of humor or wants to do something to stand out of the crowd?) You might also want to bring a full on concert experience with a nationally recognized recording artist or a show band that specializes in corporate events and entertainment. The idea here is that your audience is engaged either hands on or at the very least, their attention is captured for a real "show".
Other acts might be more in the background as in roving entertainers or live musicians for cocktail/dinner hours. This might also include having more of a relaxed atmosphere where people can just talk, hang out, build relationships or simply party the night away. A live band and a dance floor, more of a nightclub atmosphere, etc. Themes work great here.
Quality levels.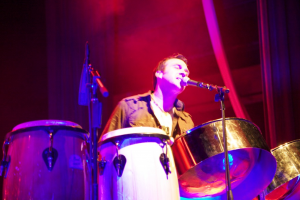 There are all kinds of levels of quality available and service provides at every level. "You get what you pay for" is always a good rule to follow though we know many great acts who truly over-deliver at reasonable budgets.
Talent, acts, agents and entertainment coordinators that supply corporate entertainment run the gamut from amateurs, part-time or newbies to dedicated professionals with tons of experience in the market or who can focus on custom or individual needs.
You may not need the most renowned artists or even a customizable show for the company BBQ but you might really want to do something special for the annual conference.
My recommendation is that you always try to get the best entertainment you can afford. This is a special event and not the time to skimp. Your employees, customers and clients will feel the difference.
Budgets.
Corporate entertainment and special events are about giving something back to your organization. Often they are about staff or customer appreciation. Sometimes it's more about entertaining (really entertaining) guests, current, former or prospective clients, showing them a great time while showing your gratitude.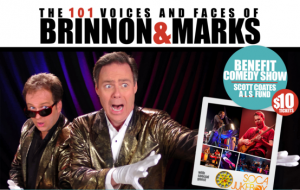 The company money doesn't just flow on forever. The person in charge of preparing the party for everyone else often has a budget to deal with.
Live bands for corporate entertainment, depending on your needs, quality levels and whether you need local, regional or national acts can run between 1000 to on rare occasions a cool million bucks (think about Elton John or Jimmy Buffett coming to your party!)
You can get some great entertainment in the 5 – 25K range. This could include some very high energy, show bands or even a notable speaker.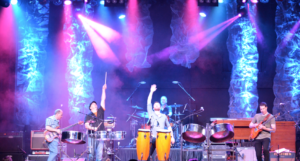 Other considerations…
Production.
Depending on the type of event you are creating, most will need professional sound and lighting production brought in. If you are having a smaller event (less than 100 people) some acts might be able to bring in their own production as part of the package. For larger events with multiple acts it's good to hire a professional company to coordinate all that goes into it.
Travel.
Any acts traveling to your event would normally get those costs covered by the organization as well. It's wise to include travel budgets particularly when working with bigger or higher priced acts. This would include hotel rooms, flights, per diems, rental cars or limousines or mileage.
Details.
"The devil is in the details" is an important thing to remember. It's a lot of work arranging all of this. You are potentially working with many vendors to cover a lot of ground. A qualified event planner or agency can be a one stop shop and be truly a God-send. If you are really hands on and prefer to handle things yourself you just want to make sure you've got everyone on the same page. Make sure you have everyone's contact information for daily interaction leading up and a "day of event" emergency contact (you'll probably never need it but just in case).
Get contracts signed in advance and make sure they detail everything that is agreed up. Especially show times, set up deadlines, promotional materials, how and when to pay or anything else you might need.
Many corporate entertainment acts can easily book a year or more in advance. It's never too early to get them on the calendar. So thinking ahead about who you'd like to have next year or the year after that is highly recommended.
It's not every day that an organization has the chance to throw a really special event. It's definitely a lot to plan for. Your company can reap the rewards of "a great night" all year long by providing it's clients, friends and employees to some high quality corporate entertainment.
For more information on booking corporate entertainment or a complete list of qualified vendors, agencies and acts in your area, drop us a note to…
jason@jasonriley.com with booking corporate entertainment in the subject.
All the best in your events! Make it a night and a great year.
Jason Riley
Jason Riley performs with multiple top acts (including Soca Jukebox). He manages and books corporate entertainment for clients and organizations across the Mid-west. He is the director of the St. Joseph Arts Academy.
www.jasonriley.com
www.stjosephartsacademy.com