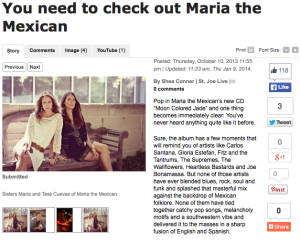 Pop in Maria the Mexican's new CD "Moon Colored Jade" and one thing becomes immediately clear: You've never heard anything quite like it before.
Sure, the album has a few moments that will remind you of artists like Carlos Santana, Gloria Estefan, Fitz and the Tantrums, The Supremes, The Wallflowers, Heartless Bastards and Joe Bonamassa. But none of those artists have ever blended blues, rock, soul and funk and splashed that masterful mix against the backdrop of Mexican folklore. None of them have tied together catchy pop songs, melancholy motifs and a southwestern vibe and delivered it to the masses in a sharp fusion of English and Spanish.
That's Maria the Mexican's business. And business is picking up.
Read the full review at NewsPressNow.com