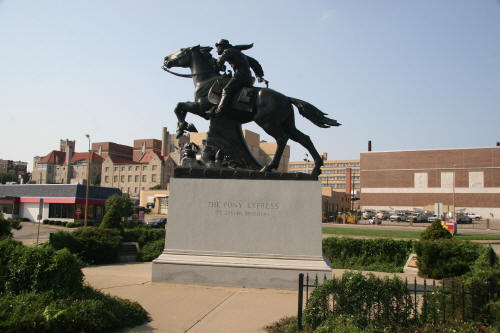 Jason Riley's Funky Folk Band will perform at the 19th annual Trails West Festival in historic St. Joseph MO this weekend. The band will play the Family Stage Friday evening at 6:45 with another set on the City Stage Sunday afternoon at 2.
Performing a mash-up of classical, jazz, blues, latin, bluegrass, funk, American and European folk, Jason Riley's Funky Folk features an all-star line-up of the region's top musical "fun-sters". The band was brought together to recreate music from Jason's latest album on InnerThump Records, "Funky Folk". The CD contains nine familiar folk tunes newly arranged and performed by the guitarist. Dipped in fun, this recording demonstrates the charm and eclectic playing style of a truly unique instrumentalist and musician. From quiet-time classical to crisp bluegrass and old-school funk, the music is consistently creative, fresh and affecting.
Integrated into the live band's sound are a melting pot of guitars, mandolin, banjo, violin, bass, percussion, keyboards, guitar synth, harmonica, hand clapping and body thumping. Jason Riley's Funky Folk includes an incredible supporting cast. Bassist, Craig Kew and percussionist, Mark Elting are ubiquitous sidemen who have performed with too many acts to name here but were crucial in the Jason Riley Trio and contributors on all of Jason's solo records. Top-tier jazz keyboardist, Jeremy Gregoire joins in and continues to dominate in that role. The set will feature a return of the female vocal duo the band has dubbed "The Sweeties" – Jolie Riley and Leslie Stone from Under the Influence. The Trails West sets will also highlight some very special surprise guests.
Let's get funky (and folky) in this family friendly showdown for music-lovers of all ages. For complete information on Jason and his music please peruse the rest of JasonRiley.com