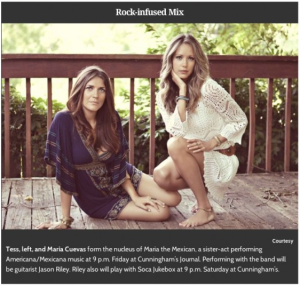 KEARNEY — Jason Riley keeps his toes in many musical pools.
The St. Joseph, Mo.-based guitarist's latest venture combines the unlikely genres of Americana and Mexicana music, joining forces with two sisters who began performing mariachi music with their grandmother — and now play a rock-infused mix under the name Maria the Mexican.
"Maria the Mexican is a rock act led by two sisters, Maria and Tess Cuevas," Riley said. "It's really a family band. They are two sisters who grew up in their grandmother's mariachi band."
Maria and Tess began performing professionally at age 10. Now in their mid-20s, the Cuevas sisters wanted to try something new.
Read the full article on KearneyHub.com