St. Joseph Arts Academy Presents:
"Play More, Practice Less"
Effective Practicing Clinic
Open to All Instruments (and Voice!).
www.stjosephartsacademy.com/request-info
"Play More, Practice Less"
Effective Practice Clinic.
Tired of arguing, threatening or bribing your music student to practice?  Experiencing "burnout", frustration or stagnation in achieving your musical goals?
There is a better way!
Join Academy Director, Jason Riley in this counterintuitive seminar about learning new skills in music (or just about anywhere else!).  Explore effective practice methods and techniques that actually work for you instead of against you.  Gain insight, inspiration and motivation to overcome learning blocks, challenges and frustration.  Learn to form positive habits that MAKE PRACTICING FUN (not a chore) while you accomplish your goals and truly reap all the benefits of music.
Saturday, 2/19 @ 2pm.
SJAA Recital Room is 2021 N. 36th street.
FREE &  Open to the public.
(Limited Spaces Available)
To Register:
– Call/Text (816) 974-7656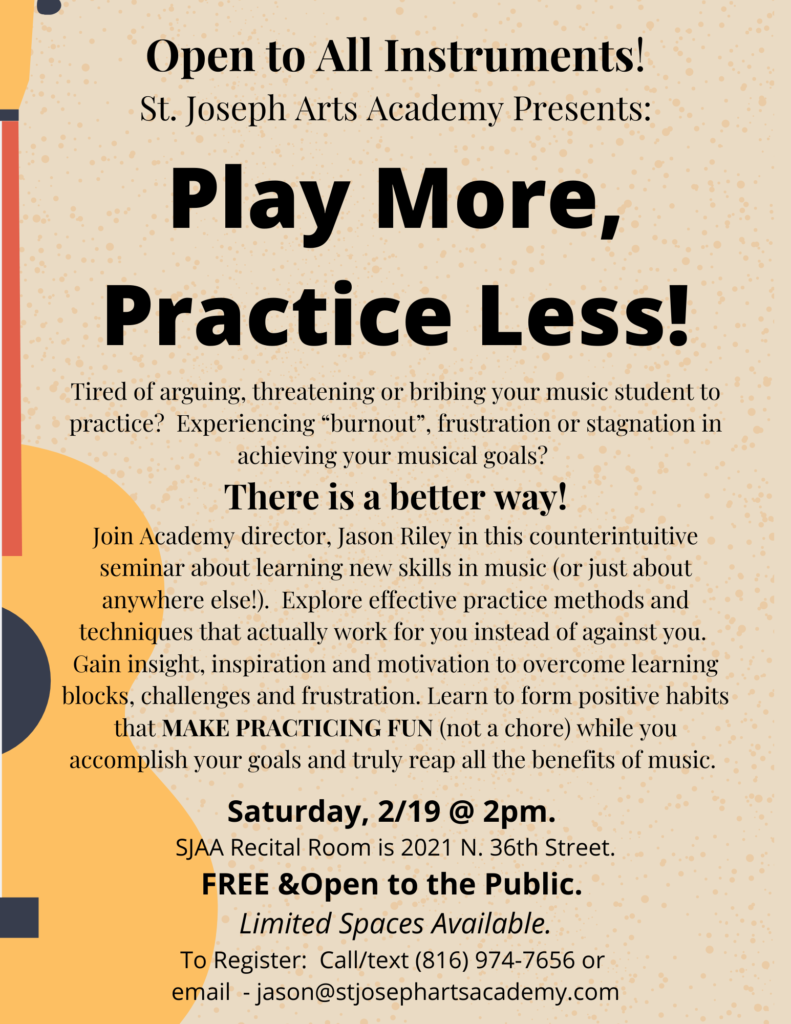 https://www.stjosephartsacademy.com
Looking for great Live music or a Live band for your event?